Pratt Fine Arts Center Presents its Spring Fever Open House
03/29/2017


March 28th, 2017
Karina San Juan, Marketing and Communications Director
206.328.2200 x260 ksanjuan@pratt.org
Pratt Fine Arts Center | 1902 South Main Street | Seattle, WA 98144

Pratt Fine Arts Center Presents its Spring Fever Open House
Saturday, April 1st, 6 - 9 pm
Free and open to the public

SEATTLE, WASH - On Saturday, April 1st from 6 - 9 pm, Pratt Fine Arts Center will open its doors to the public for its Spring Open House, a community event that provides a welcoming environment for everyone to learn about Pratt's classes, studios, instructors and staff.

Pratt Fine Arts Center mission is to make art accessible to everyone, and in that spirit, live artist demonstrations will give visitors a behind-the-scenes look at Pratt's unique programming. Visitors will see dozens of professional artists blowing glass, pulling prints, carving stone, blacksmithing, pouring molten bronze, forging red hot steel, turning wood and more!

A variety of hands-on activities are available free for kids and adults. A special 10% discount on many Pratt classes will also be available to Open House attendees. Bean Fish and Wood Shop BBQ food trucks will be onsite to provide tasty fare. During the event, attendees will be able to join Pratt artist Catherine Grisez in the creation of Part You, an interactive art piece. Participants will learn to press, hammer and form copper foil into 3-dimensional leaf shapes to create a giant exploding leaf pile. Once complete, the sculpture will be donated to the annual Pratt Annual Art Auction.

In addition to these live demonstrations, the vintage Brazilian jazz band Choroloco will perform in Pratt's drawing studio as part of the Jackson Street Jazz Walk. A night of free music spread across eight venues between 16th and 21st Avenue South, Jackson Street Jazz Walk will feature the music of more than 20 bands. Full schedule is available at www.jazzwalk.org.

Thank you to our media sponsor, KUOW, and our event sponsor, Blick Art Materials. This program is supported in part by grants from 4Cutlure, the National Endowment for the Arts, Seattle Office of Arts & Culture, and the Washington State Arts Commission.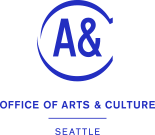 About Pratt Fine Arts Center
Pratt Fine Arts Center makes art accessible to everyone, offering a place for spirited exchange, self-expression and personal transformation through creativity. Pratt is dedicated to fostering artistic development and engagement. A unique multidisciplinary visual arts resource, Pratt provides education and instruction, community programs and professionally equipped art making facilities. Pratt is the only facility in the Northwest where absolute beginners and established professional artists work side-by-side creating art in glass, sculpture, jewelry and metalsmithing, painting, drawing and printmaking.